SUBAXY SHOP PRIMER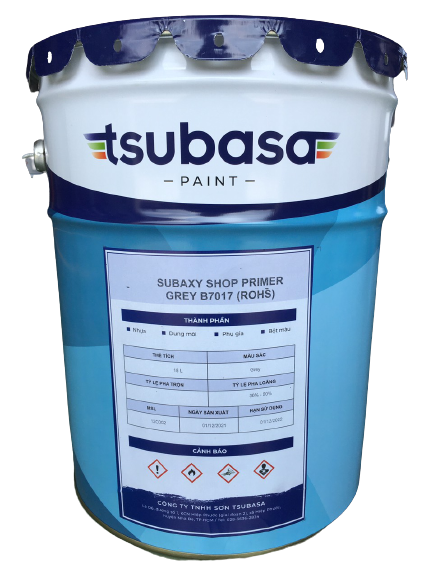 Specificities
1

Strongly adheres to various metals.

2

Very fast drying speed

3

Suitable for use as a primer for baking paint (can be heated to up to 180°C)
High adhesion and strong protection against rust
Description
Subaxy Shop Primer is a one-component modified epoxy primer
It will adhere to a variety of steel materials such as aluminum and stainless steel. It is very easy to work with and has only 10 minute drying time.
In addition, it can be used as a primer for baking paint, as it can also be heat-dried (up to 180°C).
We recommend that you use it for primary rust prevention for steel, as a primer for industrial products, and as a primer for products that require high adhesion.
Technical data
General Property
| | |
| --- | --- |
| Packing | 4.5L or 18L |
| Color | Grey White |
| Volume Solids | 23 ± 2 % |
| Specific Gravity | 1.18 ± 0.05 kg/l |
Application
Theoretical Coverage
11.5 m2/liter at 20 μm DFT
Typical Thickness
15 - 25 μm, dry film
65 - 109 μm, wet film
Surface Dry
10mins(25℃), 5mins(40℃)
Through Dry
1hr(25℃), 0.5hr(40℃)
Cured
7days(25℃), 3.5days(40℃)
Dry to recoat (min)
1hr(25℃), 0.5hr(40℃)
TDS Download
Vui lòng liên hệ với chúng tôi nếu có thắc mắc về sản phẩm hoặc yêu cầu SDS.