Subathane Top Coat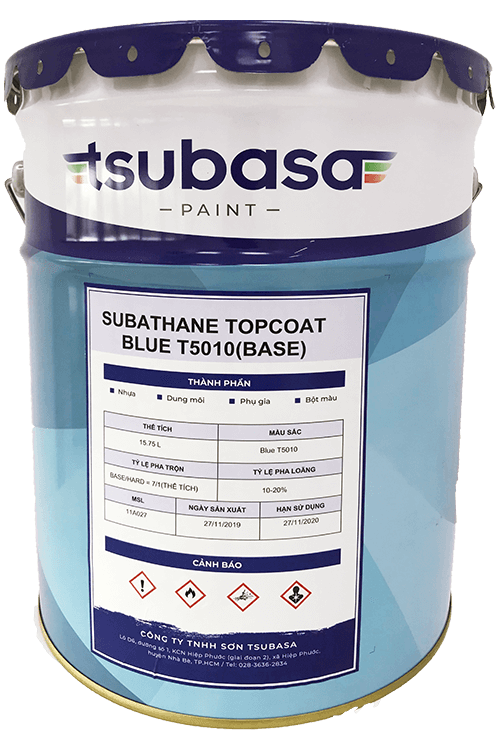 Specificities
1

Good performance with very high gloss and luxurious coating

2

Excellent resistance to water and weather

3

Can finish a hard durable coating film by combining with TSUBASA epoxy primer
Retain gloss and color for long term
Description
Subathane Top Coat is formulated by a special two-componient polyurethane resins to provide a good finish performance.
This paint retains gloss and color for long-term exterior use and maintains a beautiful finish. By conjunction with Subaxy Primer, it provides the maximum durability especially in corrosive environment.
Recommended for exterior use as tank, high quality steelwork and wood furniture, construction, machinery, vehicles (trains, etc.), chemical plants, etc.
Technical data
General Property
| | |
| --- | --- |
| Packing | 4.5L or 18L |
| Color | Depends on order |
| Volume Solids | 55±2% |
| Specific Gravity | 1.18 ± 0.1kg/l (Depending on colours) |
Application
Theoretical Coverage
11.0㎡/lít at 50μm DFT
Pot Life
5hrs(25℃)
Typical Thickness
DRY 40~60 μm
WET 73~109 μm
Surface Dry
2hr(25℃), 1hr(40℃)
Through Dry
10hrs(25℃), 5hrs(40℃)
Cured
7days (25℃), 3.5days (40℃)
Dry to recoat (min)
10hrs (25℃), 5hrs (40℃)
TDS Download
Vui lòng liên hệ với chúng tôi nếu có thắc mắc về sản phẩm hoặc yêu cầu SDS.