Subaxy Primer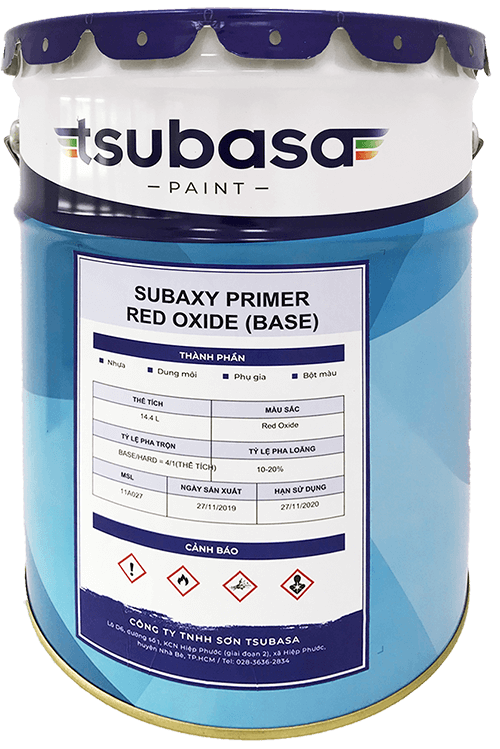 Specificities
1

High adhesion to substrates and anti-rust effectively even in harsh environments such as high humidity

2

Having good gasoline and chemicals resistance properties

3

Can apply one coat only with high thickness
Protection from rust and chemicals.
Description
Subaxy Primer is a two-component epoxy resin primer with high rust prevention and chemical resistance.
It is formulated by anti-corrosion pigments and selective resins which can firmly protect steel structures surfaces from rust and dirt
It can be applied with thick coating film (up to 120μm) and tolerant to application over manually prepared surfaces.
It is suitable for painting inside and outside of buildings, such as structural steel, metal tanks, and other environments where rust is likely to occur.
Technical data
General Property
| | |
| --- | --- |
| Packing | 4.5L or 18L |
| Color | Red Oxide, White, Light Grey |
| Volume Solids | 58% |
| Specific Gravity | 1.28 ± 0.02kg/l (Depending on colours) |
Application
Theoretical Coverage
7.3㎡/lít at 80μm DFT
Pot Life
5hrs(25℃)
Typical Thickness
1st 60~120 μm dry film
2nd 103~207 μm dry film
Surface Dry
1hr(25℃), 30mins(40℃)
Through Dry
4hrs(25℃), 2hrs(40℃)
Cured
7days(25℃), 3.5days(40℃)
Dry to recoat (min)
4hrs(25℃), 2hrs(40℃)
TDS Download
Vui lòng liên hệ với chúng tôi nếu có thắc mắc về sản phẩm hoặc yêu cầu SDS.